Technical Data
Vanities are cabinets which hold built-in lavatories(sinks)and faucets.and are typically located in bathrooms.They are sometimes called vanitory cabinets in England and other countries.
Cabinetry is not specifically a plumbing issue, but information on the construction and physical characteristics of various types of vanities can be found on the cabinet manufacturers' websites.
The quality considerations are the same for these as they are for bathroom cabinetry or for any other cabinetry, including furniture. Raised panel or concealed-hinge doors, dovetailed drawers, hand-rubbed finishes, and brass hardware are examples of features found on more deluxe models. Care in finishing greatly affects the cost.
Vanity types can be divided into three categories:
North American Frame (standard), Euro Style (frameless), and Bath Furniture.
North American Frame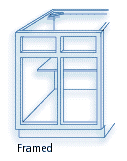 The standard vanity cabinet in North America, is generally mass produced by kitchen cabinet manufacturers, and has the same style and construction as the kitchen cabinet. Framed cabinets have a "face frame" attached to a box from which the doors hang. Less expensive cabinets will have MDF (medium density fiberboard) or plywood face frames while better cabinets will have solid wood frames.
In framed cabinets, wood joinery holds the parts together. Horizontal rails and vertical stiles secure the door to the box. Most cabinets have thick panels that have been corner blocked and glued or fastened with screws. Some cabinets are stapled together, but over time the staples will pull apart.
Doors are installed so they overlap the face frame with a space between cabinet doors. Typically, designs make use of an exposed hinge and a center stile.
Solid wood is rarely used for the sides of the cabinet box because it tends to warp where moisture levels change frequently - as is the case in bathrooms.
Usually the door and box will be constructed of different materials. A cabinet door might be solid oak with plywood sides covered with an oak veneer. The same finish would be applied to both, unifying the look.
Framed cabinets are easier to install than frameless cabinetry because of their recessed end panels and rigid front frame.
Euro-Style (frameless)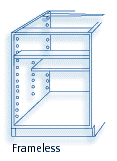 The European frameless cabinet does not have a face frame and the doors are hung directly on the cabinet box.
For most frameless cabinets, holes are drilled at 32 millimeter (1¼") increments vertically along side panels. All shelf pegs, hinges, drawer slides, and other fittings are secured to these holes. This versatile "32mm" system is easy to modify as your needs change.
Because doors are hinged directly to the cabinet side using a fully concealed hinge, frameless cabinets usually have a more contemporary, clean look. Traditional door styles can be used where a softer, warmer appearance is wanted.
The close tolerances for doors and drawers make frameless cabinets more difficult to install. This method of construction is usually less expensive than framed cabinets because it uses less material.
The cabinet box is normally made from melamine coated particle core boards, and the edges taped with melamine or high pressure laminate.
Doors are often a particle board covered with high pressure laminate. Furniture-grade flakeboard offers a stronger alternative than particleboard, which you'll pay the least for.These doors are very rigid and not subject to warping or splitting with age.
The remainder of the cabinet components are the same as used in framed construction.
Choose a vanity that appeals to you, and don't agonize over framed versus frameless construction. Today's manufacturing techniques and materials offer quality construction in either style.
Specifications
Vanities are distinct in size from other types of cabinetry.
Vanity Base
Base Height 34½" 29½"-34½"
Depth 24"16" - 21"
Width 18" - 60"
in 3" increments 18"-72"
in 3"-6" increments
Standard Size 34½"H x 24" D x 30"W 29½" H x 21"D x 24" W
Counter Tops Counter tops will add 1"to an 1½" to these heights
They typically overhang the front of the cabinet by an 1"and the sides by a½". This overhang must be taken into consideration when measurements are made.
The "standard" vanity height of 30"to 30½" is a tradition carried over from the days when wash bowls were placed on top of chests.
In today's world, this height is perfect for vessel sinks, but not for the "standard" sink bowls that are recessed into the cabinet base.
If the bottom of the sink bowl is lower than the countertop, consider purchasing a vanity that is 34½"high.This is height is far more comfortable to use when washing hands or brushing teeth.
Materials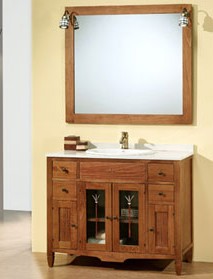 Vanities are made of a variety of materials.They may be made of wood or synthetic materials.They may be veneered or laminated.Wood products require more care because they can be damaged by water.
Maple and cherry woods are being used frequently, although oak is the long-time favorite of the natural woods.White painted cabinets are still very popular, with biscuit gaining ground.
Moisture-resistant thermafoil doors are also growing in popularity, a process where an opaque plastic coating is applied to one-piece medium density fiberboard.These doors are very attractive and durable.
Dovetailed drawer boxes are considered very desirable and are a very strong, attractive method of construction.However, with the quality and easy movement of today's drawer guides, other methods of construction can be just as durable.
Cabinet interiors are usually plywood or particle board. Plywood is more expensive and is available with finished wood veneer or with a vinyl or melamine coating.
Today's particle board is manufactured to be high density, low in formaldehyde and can be used for cabinet interiors as long as all exposed parts are covered(with melamine, vinyl, veneer, etc.)Furniture-grade flakeboard offers a stronger alternative than particleboard, which you'll pay the least for.
Cabinets with particle board interiors are more easily damaged before installation, and so must be handled more carefully. The thickness of the material chosen will affect the cost and the quality of the cabinet and will vary from 3/8" to 3/4". To prevent bowing in wider cabinets, 3/4" (or thicker) shelving is used. Light colored interiors make items inside easy to see. In many cases, the cabinet box is constructed largely of vinyl-coated particleboard. This method has the advantage of being economical, but also very rigid and not subject to warping or splitting with age, but if the resin used in the manufacturing process is not water-resistant, then prolonged exposure to humidity and moisture can cause it to fail. It's important to keep it clean and dry and to repair any plumbing leaks immediately should they occur.
Trends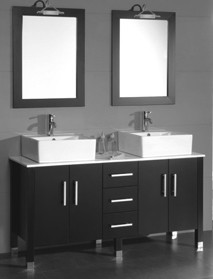 Today, the trend in luxury homes is toward taller vanity units.Double-basin vanities provide generous interior storage areas and ample room for two people to use it at the same time.
A vanity may include single or double bowls, but the cabinet must be chosen to match the top.A sink cannot be mounted over a drawer base because the sink occupies the space a drawer might use.Typically, a false drawer front is mounted in front of the bowl.
Sometimes multiple vanities in varying heights are used in the same bath to provide for his and hers wash stations.Drawers are convenient to hold blow dryers and hair curlers, etc., but an overabundance of drawers is often not particularly useful.The larger section behind doors can be used to hold things such as toilet paper, paper towels, cleaning supplies, etc, which may be more convenient here than in a linen closet.
If a designer decides to incorporate a vanity as part of a bathroom plan, there are a wide variety of configurations to choose from.Sometimes they can be quite elaborate where space permits.Many modular cabinet manufacturers do as much customization and have as many or more options available as a custom shop.
Complex designs are sold in components and can be assembled in creative ways.They can form dressing tables, multi-level wall units, or custom-built armoires, A wall mirror or mirrored medicine cabinet is ordinarily mounted on the wall above the vanity, and it's important that the mirror and vanity complement each other.
Vanities may be either bold design statements or conservative accent pieces.They can be the focal point of a bathroom or blend into a wall nearly unnoticed.Current trends are leaning toward the former, with fashion designs from around the world, and sporting custom tops of all sorts.
Many modular cabinet manufacturers do as much customization and have as many or more options available as a custom shop.Today we see curved doors with hand-carved details, and hand painted accents.
Quite often, an elaborate vanity may be placed in a powder room where guests will see it.Here, practicality becomes less important so appearance may be emphasized.
Bath Furniture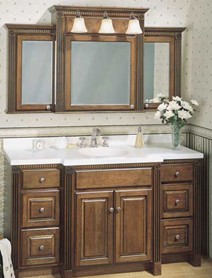 As bathrooms become more luxurious, vanities are beginning to take on the appearance of fine furniture rather than utilitarian boxes.
Taking residence along a bedroom wall or alcove, bath furniture adds not only elegance, but convenience in upscale master bedrooms and guest bedrooms.
American furniture manufacturers, such as Baker Furniture(a division of, Kohler®)are beginning to design and craft furniture specifically for use as high-end vanities.
Available in Queen Anne, Victorian, Italian and French Provincial, these vanities share unity of design with bedroom furnishings.
If your decorating preference leans toward antiques or the distinctive look of Old World furnishings, custom bath furniture is the perfect choice.
One-of-a-kind vanities can be had by converting small antique dresser cabinets and drawers, as illustrated by this 19th century hand painted cabinet from Classic Vanities in Cincinnati, Ohio.
Whether your lifestyle is formal or informal, a vanity can reflect your personality and personal style.Your designer, builder, or plumbing contractor will be glad to help you find the vanity that best fits yours needs and desires.