Technical Data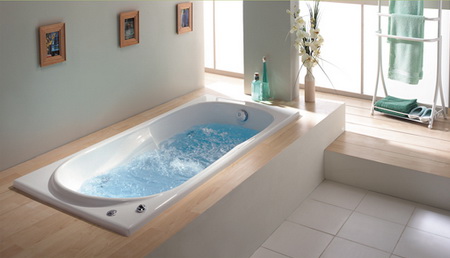 Bathtub is the center of a bathroom. A quality bathtub with beautiful lines could enhance the romantic atmosphere of your bathroom.
Bathtub Types
Bathtubs have wide varieties from different views. By shape, there are oval bathtubs, rectangular bathtubs, corner bathtubs, round bathtubs; By therapy type, there are soaking bathtubs, massage bathtubs, whirlpool bathtubs; By installation type, there are drop in bathtubs, undermound bathtubs, alcove bathtubs, skirted bathtubs, freestanding bathtubs, clawfoot bathtubs, walk in bathtubs; By material type, there are acrylic bathtubs and soft bathtubs.
Bathtub Color
The traditional bathtub color is white and bone, other colorful and bright colors such as rose, green, yellow, pink, black are also available.
Measure a bathtub
Bathtub is often measured from tub lip to tub lip. Known as outside dimension, the dimension usually represent the maximum size of the bathtub. Bathing dimension will naturally be smaller. Each bathtub has three outside dimension: length, width, height. Length is the largest measurement (except round bathtub and square bathtub) and represents the head-to-toe measurement if you were lie down inside a bathtub. Width is generally the second dimension presented in product titles. When lying inside a bathtub, width is the shoulder-to shoulder size. The final dimension height or depth is measured from the floor to the top of the bathtub. We determine each bathtub size by mm and inch according to different clients habits.
Bathtub Accessories
Bathtub usually contains armrest, head pillow, faucet, mixer, drainage, nozzle, etc.
Available Tubs Color Chart