Technical Data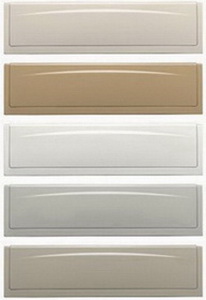 Bathtub skirt can be divided into removable tub skirt and non-removable tub skirt. Both of the tub skirts are designed to cover the exposed sides of a drop in bathtub or whirlpool bathtub, of course, they are very easily installed.
A newly installed bathtub with bathtub skirt can make the bathroom look clean and tidy. Bathtub with tub skirt has the same decoration effect as a freestanding bathtub, and it is much cheaper. The same as our acrylic bathtubs, our bathtub skirts are also produced by high quality sanitary cast acrylic sheet and reinforced by fiberglass and resin. Tub skirt from GreenGoods is the same strong and durable as our acrylic bathtub.
Because the acrylic sheet can be produced by different colors, as a result, the bathtub skirts have many bright colors for choice too. Of course, customers prefer to purchase white tub skirt that's because white is still the most standard and favorable color for bathroom decoration.
From the side tub skirt photos, you could see the same style tub skirt can be produced into white, biscuit, sand bar, ice grey, almond, and Mexican sand colors etc.