Steam Shower Reviews
A typical steam shower comes with a steam therapy effective for treating as asthma, bronchitis, allergies and sinusitis. The heart of a steam shower is the quality of steam generator. GreenGoods steam shower only be assembled with high quality steam generator which just takes two minutes for the steam to ooze out.
In GreenGoods bath factory, we manufacture five categories of steam showers: quadrant steam shower, rectangular steam shower, offset steam shower, round steam shower, steam shower combo. As for a steam shower combo, it is usually a steam shower enclosure combine with whirlpool bathtub in rectangular or corner shape. For the other quadrant steam shower, rectangular steam shower, offset steam shower, round steam shower, they are usually steam shower with shower trays in different shapes and depths.
Steam shower comes complete with all plumbing, top rain shower head, steam generator option, handheld shower and thermostatic water mixer etc. Here we list the features of steam shower to help you understand the steam shower better.
Computer Control Panel: This new digital control panel is both stylish and user friendly. With the touch of a button you can control the lighting, temperature, radio, acupuncture jets, and more.
Acupuncture Massage Jets: there are body massage jets for upper body, middle body and lower body. These jets pinpoint and and tenderize channels and subsidiary channels along the shape of your back, they bring just the right touch to relieve aches and pains.
Top Rainfall Shower: it provides an invigorating shower experience that could be likened to standing out in a fresh rain fall.
Top LED Lighting: The top LED lighting illuminates the shower cabin while complimenting the contemporary design.
Radio and Speaker: This fully programmable FM radio with memory function allows you to tune into your favorite stations or browse across the radio dial while enjoying your relaxing steam shower.
Ventilation Fan: The ventilation fan provides fresh air while the steam generator is working and expels the germ filled air after each use.
Steam Outlet: A robust steam generator heats up in a matter of minutes to provide a divine steam shower experience. From the digital control panel you have the option of setting a time limit or temperature limit for automatic shut off of the steam generator.
Handheld Shower On Slide Rail: The elevated handheld shower is assembled on the support of the sliding bar which can move up and down based on your height.
Aromatherapy: You simply place solid or liquid aromatherapy scents or specialty medicines inside the steam box during use for wellness benefits, extra comfort and additional relaxation.
Ozone Sterilization System: Because humid conditions can produce bacteria, this ozone sterilization system is a must have feature. With the press of a button this special self cleaning function kills all bacteria and viruses allowing the next user's experience to be germ free.
Foot Massage: Combining both mechanical force and hydro pressure this removable foot massage delivers an invigorating podiatric experience.
Thermostatic mixer: The thermostatic mixer allow you to select a specifically desired water temperature which eliminates those sudden water temperature shifts.
Whirlpool Style Water Jets: only for steam shower-whirlpool combination units. Using a dial positioned at the end of the bath tub you can easily increase or decrease the pressure of the water jets that line the sides of the bath to customize your bathing experience.
Hope the above steam shower reviews could help you purchase the right steam shower for your lovely home.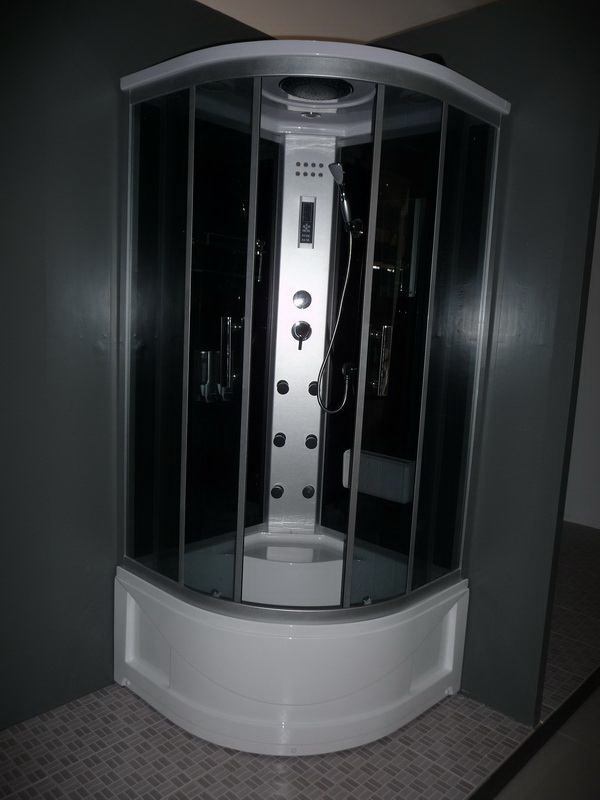 Steam Shower Reviews