Shower Tray Materials
Are you looking for a right shower tray? Make sure you take serious consideration to ensure you choose the right shower tray materials from hundreds of shower trays on the market. Shower trays can be made out of various building materials, different materials of shower trays can affect the price, quality and durability of the shower trays. Let me introduce you the most four common materials.
Acrylic shower tray
Acrylic is an economical material to make shower trays out of. Shower trays produced by acrylic are light and can be produced in different shapes, sizes and colors which giving you many options. Some people thought acrylic shower trays don't last as long as other shower trays materials. As a matter of fact, GreenGoods bath factory produces all the shower trays strengthened by fiberglass and resin which can increase the shower trays longevity and durability. Acrylic shower trays are inexpensive, low in cost, not labor-intensive, durable and versatile, all the advantages attract many commercial and residential building projects choose acrylic shower trays to fulfill their work. The glossy surface of acrylic is strong, durable and easy to clean. Even scratches and dents are not as noticeable as they might be with a solid surface like tile, luckily scratches can be polished or buffed out with most acrylic shower trays. Acrylic shower trays are typically preformed and are available for purchase at a home improvement store or directly from the manufacturer.
Ceramic tiles shower tray
Ceramic tiles come in many colors, patterns and shapes, giving you the chance to make a creative shower tray. Cutting the correct measurements, angles and custom-made the shower tray takes a lot of time and need to hire a skilled carpenter which is the most expensive part. Ceramic tile shower trays are longevity and require low maintenance but can chip if hit by a heavy blunt force. Fortunately the chips can be repaired. A tiled shower tray permits the homeowner and designer to use a variety of materials like natural stone as granite and marble or less expensive materials like ceramic tiles and glass mosaics to be added to completed the design and express the individual style. Since ceramic tile shower trays takes too much time and relatively higher cost, we can only find this kind of tiles shower trays in older homes.
Fiberglass shower tray
Fiberglass is a kind of sturdy material produced to withstand years of use and exposure to soap, shampoo and cleaning detergents. Fiberglass shower trays are similar to acrylic shower trays as they are both premolded by the manufacturer and can be found in a variety of sizes, shapes and colors to satisfy your tastes. The same as acrylic shower tray, fiberglass shower tray is low in cost, requires little labor to install it and rarely leaks; you can find it is used in many houses. Fiberglass shower trays come in rich of colors that are made to fit in with any bathroom decoration. Fiberglass shower trays can be made in almost any shape as square, rectangle, triangular etc. A variety of sizes is also available for any size space you need to fill. The disadvantage of fiberglass shower trays is they will wear and change color in several years.
Stone shower tray
Stone shower tray includes stone resin shower tray and cultured stone shower tray. Stone resin shower tray is cheaper price because the resin is actually stone that was ground, molded into a useful shape and then hardened. Cultured stone shower tray is the most expensive shower tray among all kinds of materials because it should be cut from a naturally formed stone with the correct size. Manufacturers usually use granite, marble, and limestone to produce cultured stone shower trays which are durable, strong and requires less maintenance, In order to care the stone shower tray, you'd better wipe down and dry it completely after you finish the shower.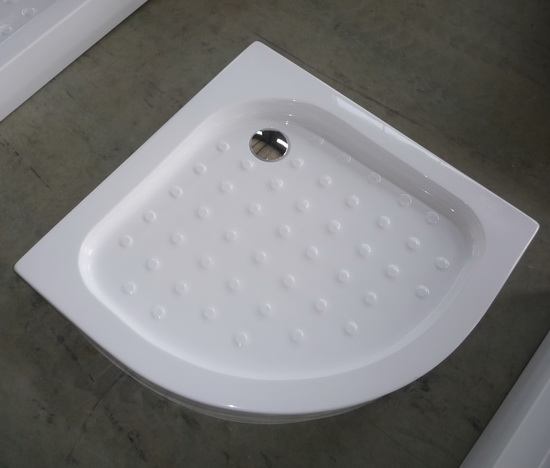 The most popular shower tray material is acrylic