Magical Materials For Soft Bathtub
Soft bathtub is a kind of new tub which is still a kind of luxury product only for the riches and the ones who understand the real joy of life. We are sure that most part of homes and hotels are installed modern or classic design of acrylic bathtubs or cast iron bathtubs, both of them are popular bath tubs in the world market. Contrary to acrylic or cast iron bathtub, soft bathtub is much more expensive and bring you much more safety and comfort feelings.
The soft magical materials used on GreenGoods soft bathtub are totally different from the common materials, the soft materials are tested under 194.0 °F hot water and 120,000 times of 90 kg pressure, but the result is NO DEFORMATION at all. Maybe you cannot image that the insulation feature of soft bathtubs is five times better than traditional acrylic bathtubs. The heart technology of GreengGoods soft bathtub is the radiation-free surface materials which combine the following advantages: non-yellowing, dirt-resistant, high temperature resistant and scratch resistant. As a result, soft bathtub is more environmental friendly, safe, soft and brings you comfortable and enjoyable bathing time.
As a leading bathtub manufacturer in China, GreenGoods usually export the acrylic bathtubs containers by containers to all over the world; completely different, the soft bathtub is often been sold out one by one to the end users because of its expensive price.
Since the firstly developed soft bathtub, we have already owned 26 different kinds of soft tubs, drop in soft tubs, soaking soft tubs, clawfoot soft tubs, freestanding soft tubs in rectangle, round and oval shapes. I am sure you could find a satisfied one by choosing from Soft Tubs at GreenGoods Bath Factory.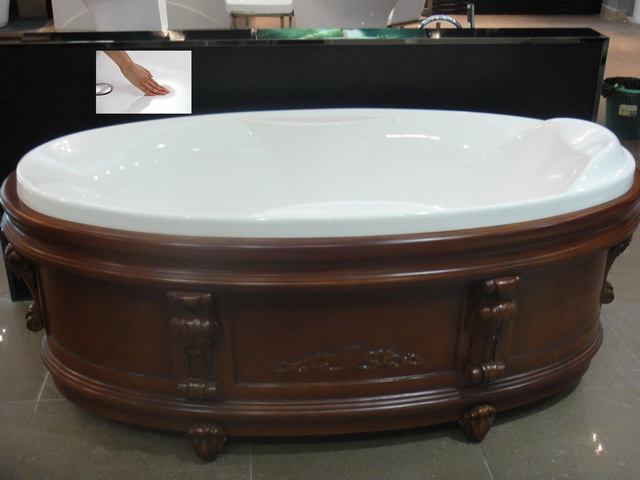 Magical Materials for Soft Bathtub