Bathroom Designs
Sanitary wares are plumbing fixtures for bathrooms, includes: bathtub, bathroom vanity, sink, toilet, shower enclosure, faucet and related bathroom accessories. Sanitary wares are usually made of acrylic sheet, ceramics, glass, plastic, artificial marble, stainless steel etc. Bathroom is an important place for our daily life. Sanitary wares are not only beautiful and functional, but also make our life easily and leisurely. Whether the bathroom design is simple and elegant, luxury and bright, the bathroom designs and layout should be practical and rational. Please follow the next four guides to build, design or remodel your lovely bathroom.
1. Harmony designs
Each piece in the bathroom, from wall tiles, floor tiles, bathroom sink, bathtub to faucet, hand shower and related bathroom accessories, all the fixtures combine together to form a complete bathroom. Every details, even minor dimensional changes will affect the overall aesthetic. Keep attention to every specific details in order to express yourself appropriately. Traditional bathroom only combines bathtub, faucet and wash basin mechanically, actually, people really need is not a faucet, a bathtub itself, but the water flows from them. These sanitary wares are just carriers which provide a relax environment to coexist with water. These unique sanitary wares bring the natural curve to the bathroom space, reflecting the close relationship between human and nature. The unique and consistent style of sanitary wares in a bathroom gives us special and wonderful feeling.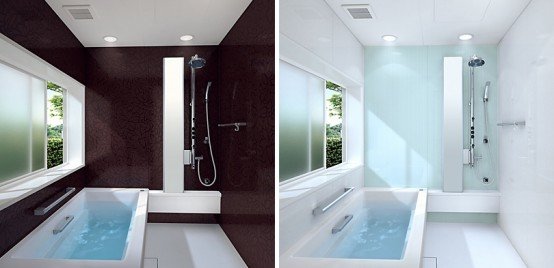 Bathroom Designs - Sanitary Ware Layout
2. Reasonable layouts
The complete sanitary wares in a bathroom should be matched with each other, in order to complete a unified style without compromising the aesthetic degree. Indeed, they should be reasonable sizes. In general, the toilet area should be occupied 370 x 600mm, the wall hung wash basin occupies an area of 500 x 700mm, square shower enclosure occupies an area of 800 x 800mm, the bathtub occupies standard area as 1600 x 700mm etc.
while installing, the distance between the bathtub and the opposite wall should be around 1000mm which is a reasonable distance while move around.Even if the bathroom is very small, a narrow walking place should be kept when the bathtub is installed. In short, the distance between bathtub and other objects should be at least 600mm.
It needs about 900 x 1050mm space to install a medium size wash basin and allows a person to wash there. The relative distance between bathtub and toilet should be placed about 600mm, this is the minimum distance that a person could through. So, the width of a bathroom should be at least 1800mm that could allow a bathtub and toilet placed oppositely. This distance for the traditional bathtub is very appropriate. If the bathroom is quite small, it is necessary to consider installing a small size bathtub.Please refer to 1000x700x375mm small size bathtub.
The bathroom mirror should be installed in about 1350mm height, this height can make a mirror opposite the person's face. In accordance with the size to dress up the bathroom, gives us comfortable feeling.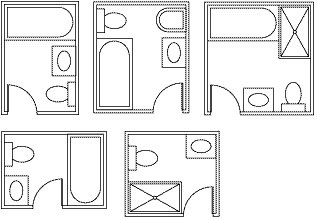 Bathroom Designs - Sanitary Ware Layout
3. Making use of corners
Rational planning of the corner space, not only can play the greatest value, but also to enhance the artistry of the entire home environment. The corner is the place where people cannot through, in another words, it is the right area to place suitable arrangements of a number of functional wares, such as basins, toilets and cabinets etc. Making good use of corner can increase the sense of space and make the bathroom looks more spacious. This requires breaking down the unusual idea, especially in the very small bathroom. For example, the diagonal position can usually put basin and toilet, the middle part is used to shower. The benefit of this kind of arrangement can not only increases the visual sense of space, but also increases the comfort degree of showering.
4. Appropriate lighting
The clever use of light change the sense of space. Bright lighting can enhance the grand degree of space, while dim light make the space seems narrow and uncomfortable. For example, glass shower enclosure and other use of frosted glass making sliding doors could both saving bathroom inside space and improving the lighting of bathroom, like the saying as killing two birds with one stone.
bathroom time is the most relaxing thing in a whole day, it can not only calm down the tensile mind, but also be the synonym of comfort, privacy and self-renewal. Body and mind cleaning cannot be separated from the bathroom practical design, and a perfect bathroom design greatly depends on the master's wisdom.
A good bathroom design is key to a successful bathroom layout and bathroom remodeling. The practical guides with above details description could help you to own a desired bathroom layouts and enjoy your bathing time.