Soft Bathtub VS Hard Acrylic Bathtub
GreenGoods produces soft bathtub as well as acrylic bathtub to meet different client's requirements. Both soft tubs and acrylic tubs have their own advantages and disadvantages. Clients choose to purchase according to their demand, fund, bathroom space and different bather. Bathtub is a must to a family, some families have two or three tubs which have their own masters, luxury acrylic bathtubs for adults, baby clawfoot tubs for children and safety tubs for seniors. Now, the cool soft bathtub is suitable to any generation.
Materials:
Soft bathtub is produced by soft material which is environmental friendly, bring us soft and safe bathing experience.
Acrylic bathtub is produced by 100% lucite acrylic vacuum formed bathtub molds with rich colors, light weight and easily installation.
Safety:
The unique antislip surface treatment and soft layers of soft bathtub protect the bather safety without any help of other bathroom grabs or chairs. It's the most safety bathtub for elderly and baby.
There are antislip dots on the acrylic bathtub inner part, it is safe enough for healthy and energetic adults, but should be careful of its hard corners and surface for seniors and babies.
Comfort:
The inner part of the soft tub will turn softer when meets warm water and it totally fits the human body line, feels like skin to skin. Soft bath tub is as comfortable as an easy chair or sofa allows you to stretch out.
Acrylic bathtub is much more comfortable than cast iron bathtub because of its warm surface, however, compares to soft tub, the hard surface of acrylic tub resembles concrete floor, its assigned seats restrict activity and positioning.
Price:
The price of soft tub is expensive because of complex processing and high rejection rate. There are only three factories produce the soft bathtub in the world, and we are the only manufacturer who produces the soft bathtub with standard, classic and elegant design that is suitable for mass population. At present, there are only high-income group could enjoy their specialties of the soft bathtub.
The price of acrylic bathtub is cheaper than soft bathtub, a lot of manufactures share the easy producing technology and the producing capacity per day is huge. The cheap price attracts commercial bathroom projects as well as residential bathroom remodeling.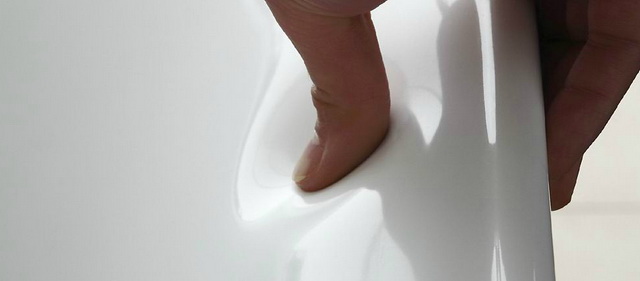 Soft bathtub vs hard acrylic bathtub: the soft surface of soft bathtub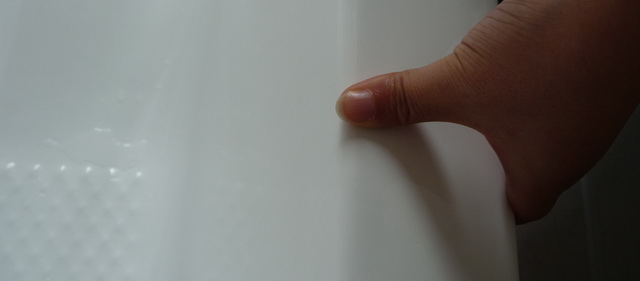 Soft bathtub vs hard acrylic bathtub: the hard surface of acrylic bathtub