Types of Bathtubs
Currently on the market, there are five most common materials in the bathtub series:Acrylic bathtub, steel bathtub, cast iron bathtub, Jacuzzi bathtub and wood bathtub. Let's look at there advantages and disadvantages of each one.
Bathtubs Types of Acrylic Bathtub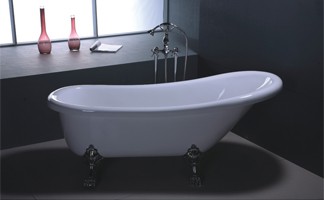 Acrylic Bathtub - Types of bathtubs
Character: it was made by acrylic synthetic resin with very light texture.
Advantage: because the acrylic sheet is soft and easily shaped, so, the acrylic bathtub is abundant of shapes and colors. The customer has more choices.Acrylic bathtub has better warm keeping, in winter time, the keeping time is longer. As for its light weight, it's easily transportation and installation. The surface scratches can be amended.
Disadvantage: the surface is more easily have scratches.
Maintenance:
1. Do not put hot water into bathtub directly. Please put cold water before hot water. Acrylic Product became soften while heated 100 degrees, avoid storage and usage up 80 degrees.
2. Do not use sharp objects or hard abrasive materials wipe the surface.
3. Avoid contact with paint, volatile agent, diluents and other strong organic solvent exposure. It may cause the surface to soften, dissolve or crack phenomenon endangering product quality.
4. Do not wipe with a scouring powder, which could corrode the surface and reduce the brightness.
5. Acrylic material hardness is equivalent to aluminum;the surface protection should be noted. In case of injury, it could be repaired by using 1500# matte paper, the surface brightness could be obtained again by car polish.
Bathtubs Types of Enamel Steel Bathtub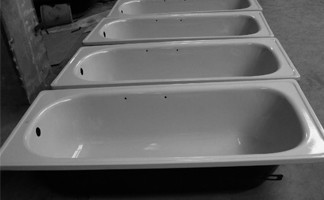 Enamel Steel Bathtub - Types of bathtubs
Character: enamel steel bathtub is solid and durable. It's usually made of 1.3-5mm thick steel plate, so, its weight is much lighter than cast iron bathtub. The surface finish is very high
Advantage: cheaper, light texture, easy to install.
Disadvantage: because of production process, the shape of steel bathtub is very monotonous, iInsulation effect is poor, and noisy water bath. The thickness of the steel plate is less than standard among most of the steel bathtubs in the market, it will sink under loading. The glaze of the surface enamel layer could be blasted during transportation and usage. As a result, lead to rust and can not use again.
Bathtubs Types of Cast Iron Bathtub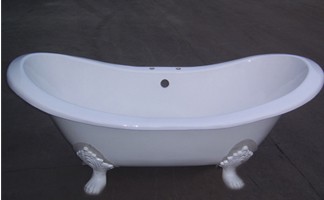 Cast Iron Bathtub - Types of bathtubs
Character: Cast iron is an extremely durable material, bathtubs which made by this raw material can usually use more than 50 years. Cast iron bathtubs in many foreign countries are passed on from generation to generation. The surface glaze of cast iron bathtub have been treated under high temperatures, it feels smooth and easy to clean.
Advantage: Durable is the best advantage of cast iron bathtub, in addition, it is mild color, free noise and easy to clean.
Disadvantage: since production costs are expensive, so the prices of cast iron bathtubs are generally higher. The style is monotonous, color selection is narrow, and the insulation is not good enough.
Bathtubs Types of Wood bathtub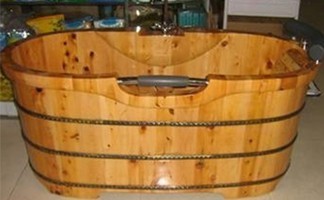 Wood Bathtub - Types of bathtubs
Character: it's spliced by wood plate; the external is fastening tightly by hoop.It also has natural wood color and smell, hold the taste of return to innocence.
Advantage: good temperature keeping, the bathtub is deep, allow the whole body completely immersed, you can customize according to the individual requirements.
Disadvantage: more expensive, usually require normally maintenance to prevent leakage and deformation.
Bathtubs Types of Whirlpool Bathtub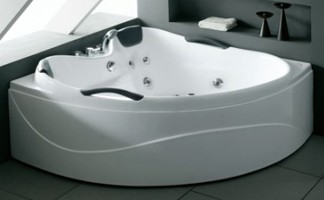 Whirlpool Bathtub - Types of bathtubs
Character: Jacuzzi bathtub mainly driven by the electric air pump out of the inner wall of the nozzle jet of water mixed with air, Water circulation within the bath, Relieve muscle pain;promote blood circulation, so as to achieve the effect of body massage.Generally they are made in acrylic materials, some of the top brands are made in cast iron.
Advantage: High degree of automation, hydro massage can relax body and mind.
Disadvantages: expensive, the inside is difficult to clean.