Take a plunge in the Deep Freestanding Bath
Always wanted a shower of your own? Didn't have the budget? Well, worry no more. The deep freestanding bath is here. Deep freestanding baths are different from the narrow ones. Firstly they provide greater depth as the name suggests. Secondly, they provide enough room for two people without hogging up space in your bathroom. Their versatile design allows you to stand them separately or make a built in shower. Deep baths are great if you want an inset bath. Here are a few reasons why you should consider it the next time you are thinking of a new bath.
Affordable prices
Most of these deep freestanding baths are cheaper than other freestanding ones. But they work as good as their expensive counterparts. Now you can finally afford that relaxing bath you always dreamt of. The bathtub market has become more competitive than ever before, and this has compelled the leading manufacturers to slash down their prices. If you are lucky, you can even enjoy hefty discounts on bathtub products. It is always an imperative to buy bathtubs from the online retailers. Why are we saying this? Online retailers almost always offer lower prices on bathtubs than the brick-and-mortar retailers.
Size matters
Most bathtubs out there won't fit two people, and even if they do, they take up entirely too much room. The deep freestanding tub not only takes up less space in your bathroom it can also readily fit two full grown persons. They are also excellent for bathing children as it gives them ample room to splash about while bathing. If you are not sure which size you would need, you can simply ask a retailer about which size you should pick for your bathroom.
A smart touch to your bathroom
The freestanding slipper tubs have been the epitome of sophistication since the Victorian era. This bath combines both the essence of tradition and the spirit of modern thinking. It blends in both aesthetic and contemporary styles into the bathtub leaving you with a beautiful work of art. Freestanding bathtubs are traditional in design, but you can't overlook the trendy finish.
Flexibility
Opt for the flat-bottom tub if you want a modern looking bath. Go for the claw feet baths if you are willing to give a vintage touch to your bathroom. One can also choose a flat bottom tub for a more contemporary look or even the pedestal ones who bridge the gap between traditional tubs and modern tubs. The deep freestanding bathtubs also come in a variety of shapes from circular to square and rectangular to oval. The deep circular baths can be inset into a high pedestal for a deep basin like feel. There are slipper models with reclining edges which let you lounge cozily in your home. Choose a single ended or double ended depending on your needs. They come in a wide range of colors as well. The possibilities are endless.
It's practical
They are stunning to behold, but that is not their only purpose. The deep freestanding tubs are equally functional. The internal depth is excellent and can be varied according to your height. Some tubs are elevated with feet allowing you to clean underneath the tub. It looks slim and smart all the while providing you with the space you need. You don't have to spend a fortune for a stylish bathroom. With the right bathtub, appropriate accessories and right ideas, you can give your bathroom a luxurious feel.
These are only a handful of reasons why the deep freestanding baths are an excellent choice. Check if your floors are high enough to take its weight as freestanding tubs tend to be heavier. Also check your plumbing plans beforehand, so you know exactly where the pipes go. All said and done its time you brought home the deep freestanding bath home and plunged in to beat the summer heat.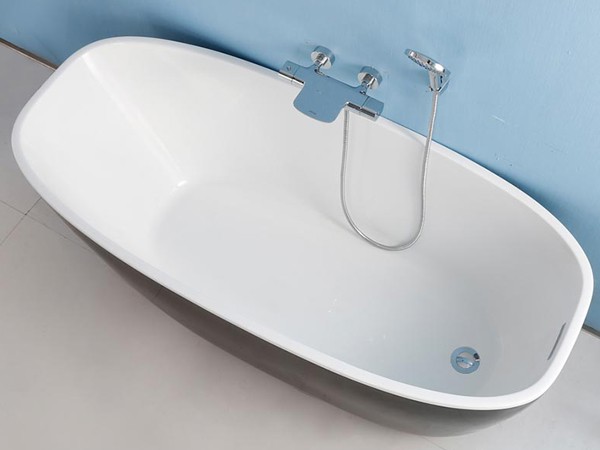 Take a plunge in the Deep Freestanding Bath