Take a Dip with Your Loved One in the Double Slipper Freestanding Tubs
Slipper tubs have been around since the late 19th century when they became popular among the wealthy and sophisticated, going out of trend at times. In recent times, however, people are resorting back to the time-tested cures of old for whatever troubles us. Freestanding Slipper tubs are not only back but also in trend. If you are looking for a rejuvenating bath with your partner, then look no further than the double slipper freestanding tub. A warm, romantic soak in the double slipper with your close ones is sure to lift you up in no time. Imagine how stimulating you will feel reclining at either end of the tub. Here's why the double slipper is perfect for you and your better half.
Size
Yes, size matters. The double slipper tubs are built for two people, but if you are not looking forward to sharing it, you can select from a host of other sizes suitable for you. The not only come in varying lengths but also different depths. The classic double slipper has ample room for two people to enjoy a relaxing bath without having to fight for room. As both the ends of the bath slope inward you can recline on either end with equal ease. They are also great for your kids. However because of their freestanding nature and depending on the size and depth these tubs are on the heavier side so you may want to check if your bathroom floors are strong and sturdy before you buy it.
A classy look
Freestanding Slipper tubs have been the epitome of bathroom luxury since the Victorian era. In this day and age, you might think these tubs look outdated. Well, you are wrong. Double slipper tubs are quite the craze now among newly married couple with enough room and money to spare. They do have an old-world charm, but you can find several models in the market with just the right amount of modernity injected into them. They now come in various styles and design, and you can even customize them to your liking. Along with the vintage look and feel of a Victorian bath, it also gives your bathroom a smart and sophisticated look which is sure to bring you loads of compliment from your friends and envy from your neighbors.
Flexible design
Double slipper tubs can be placed anywhere in your bathroom thanks to its freestanding nature. Put it up against a wall with wall mount faucet, and you can relax in seclusion. Make it the star of your bathroom and place it in the middle of the room. It gives your bathroom a larger look and leaves enough space for your furniture. Some tubs have feet attached to them. The imperial ball or lion paw feet gives your tub a timeless feel. You can easily clean the floor below the tub and also lets you use the full pattern of the floor. One can also choose a flat bottom tub for a more contemporary look or even the pedestal ones who bridge the gap between traditional tubs and modern tubs. The faucet has to be the center of the tub and can be deck or wall mount. Deck mount faucet is a popular choice as you don't have to reach for the taps in the middle of a relaxing bath. Freestanding faucets are also an option. However, do check your plumbing plans so that your tub drain fits with your piping.
Not just a looker
They are stunning to behold, but that is not their only purpose. The double slipper freestanding tubs are equally functional. The rounded edges in some models ensure comfort while their gentle slope lets you rest your head and neck with relative ease. Both ends of the double slipper are raised so that two people can recline and enjoy a deep bath. This gives the perfect lounging experience at the comfort of your home. With so much going for it, the double slipper freestanding tubs are the ideal choice for your bathroom. Just imagine a bubble bath with that special someone. Only the double slipper tub can make that dream come true.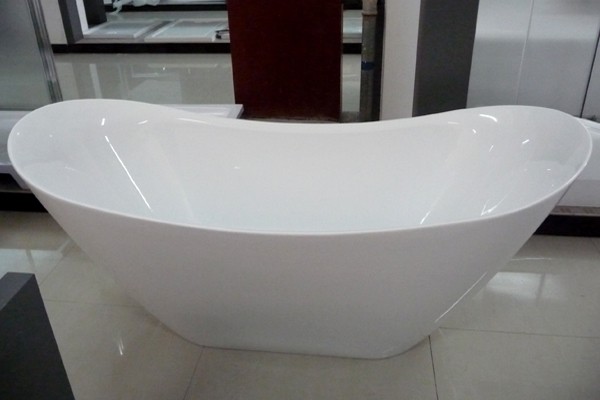 Take a Dip with Your Loved One in the Double Slipper Freestanding Tubs