67 inch Acrylic Slipper Style Clawfoot Bathtub
Model Clawfoot-25, 67 inch acrylic slipper style clawfoot bathtub with no faucet drillings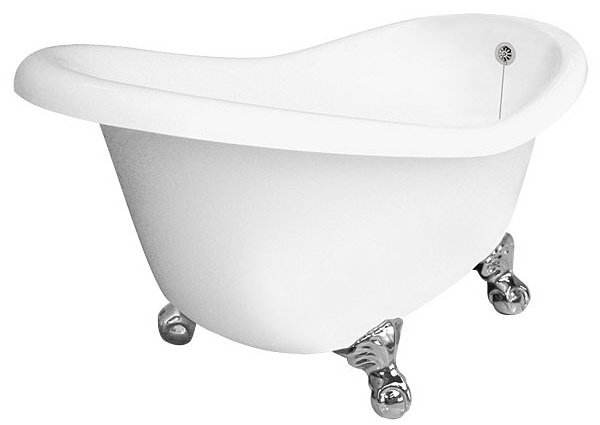 · Overall Dimensions: 67" L x 32" W x 30" H
· Seating Area: 41" x 16"
· Acrylic Slipper Clawfoot Tub
· Crafted from two 1/4" sheets of high-quality cast acrylic
· This process produces a bathtub with the same unmatched high-gloss shine inside and out.
· The multiple layers of materials make the bath tub almost a full inch thick - eliminating any flex or movement under normal circumstances.
· Non-porous interior surface will not stain, discolor, or retain any odors.
· Cleans easily with a warm, soapy cloth - no harsh abrasives or elbow-grease is necessary.
· No Faucet Drillings
· Water Depth: 15"
· Water Capacity: 40 gallons
· Empty Weight: 145 lbs.
· Filled Weight: 512 lbs.
· Shipping Weight: 200 lbs.
· Some Assembly Required: Feet are not attached to tub on delivery and must be installed.
· Outstanding protection: Ten Year Warranty
· The ball and claw feet are available in the following finishes


clawfoot bathtub, item:clawfoot-01

clawfoot bathtub, item:clawfoot-02

clawfoot bathtub, item:clawfoot-03

clawfoot bathtub, item:clawfoot-05