Why are the Freestanding slipper Tubs Making a Comeback
Freestanding slipper tub was introduced way back in the late 19th century. Back then it was a luxury only for the wealthy and the select few. Cut to the 21st century, and freestanding slipper tubs have made a comeback, and how! Not limited anymore to the wealthy more and more people these days are opting for freestanding slipper tubs. Earlier they used to be made of steel, porcelain or copper which made them heavy and difficult to move. However, now they come in a vast array of materials from cast iron to lightweight acrylic and even wood. The freestanding slipper tubs come in two broad categories namely single slipper and double slipper. Now here are only a few reasons why the freestanding slipper tub is back in business.
Freestanding tubs are in vogue
The best thing about freestanding tubs is they can practically be placed anywhere in your bathroom. If you prefer a secluded bath then you can place against a wall or if you prefer to show off your new bath place it in the center of your bathroom. You can place it just about anywhere. Freestanding slipper baths are also easy to move and clean as well. Most freestanding tubs are elevated on four feet which allow you to clean the floor below your tub. However, you should check your plumbing layout to make sure your bath lines up with the necessary piping.
It's easy on the neck, easy on the pocket
The freestanding slipper tubs are no longer a luxury, and they are quite affordable. The freestanding slipper tubs became popular because of the comfort they evoked. They are sloping at either end or both (in case of double slipper) which provides perfect support to your head, neck, and back and lets you recline back comfortably into the tub for a nice warm bath. The inward sloping of the slipper tubs makes them ideal for lounging. Depending on its size and shape the rim of the tub can act as an arm rest.
Endless possibilities for your bathroom
Yes, you read that right. Endless! The freestanding slipper tubs come in a plethora of styles, size, and color. Traditionally slipper tubs are fitted with feet to elevate them from your bathroom floor which makes cleaning easier. The ball or classic lion paw styled feet adds an imperial touch to your bath. Then again there are flat-bottom variants which bring a contemporary flair with their bold silhouettes and clean lines. The pedestal tubs provide a bridge between traditional and modern and bring the best of both worlds. Whatever be your choice these bathtubs are sure to make your bathroom look elegant.
If you are not sure whether you can renovate your bathroom and whether a
freestanding slipper tub
would fit the interior of your bathroom, don't hesitate to consult a bathroom renovation expert or someone who knows bathroom and home improvement inside out. There are home improvement and renovation experts who know the nitty-gritty of the matter and can offer you pithy tips.
Worth your hard earned money
The freestanding slipper tubs do not only look great they feel great too. The simple and smooth curves feel easy on your back, and the depth of the tub is enough to immerse your body entirely. The sloping end acts as a comfortable headrest. The faucet can be wall mount or deck mount as per your preference. You can also opt for freestanding floor mount faucet. If you are looking to share it with your partner, then go for the double slipper tubs which are raised at both ends. The flexibility in its design lets it blend the best of both traditional essence and modern flair. The slipper tubs not only look gorgeous they make your bathroom look beautiful all the while offering both function and style.
With enough budget and room to spare the freestanding slipper tubs can be yours. So why wait? Get one that suits you, put on some blues and sink in because they are back better than before and certainly here to stay.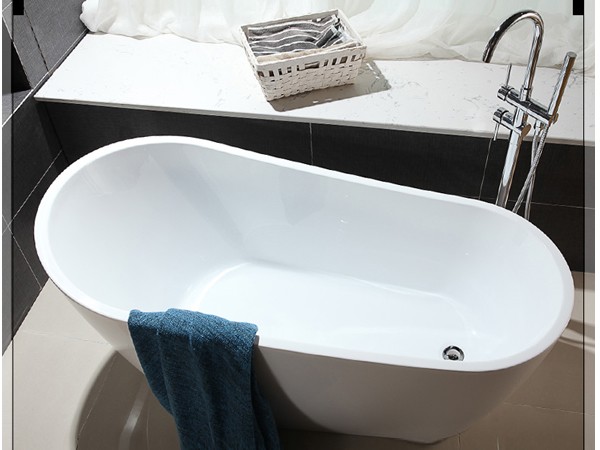 Why are the Freestanding slipper Tubs Making a Comeback