The Perks of Owning a D-shaped Freestanding Bath
Baths have long been considered as a mean for relaxation of not only one's body but also one's mind. Apart from keeping your body clean and healthy, a deep soaking bath can relieve stress and fatigue which in turn rejuvenates your mind and body both. Nothing offers the comfort of a relaxing bath inside your own home like a D shaped freestanding bathtub does. Bathtubs are an essential feature in any bathroom provided there is ample room to keep one. With the progress of time designers have come with many clever ideas to address this issue. Among these many ideas is the freestanding bathtub, which can stand alone anywhere in your bathroom without support. With the popularity of freestanding tubs sharply rising over the past few decades, designers have now come with an ingenious solution.
Spaces
If you have an average sized bathroom or if you have been pondering over where to place your tub when you buy one then the D-shaped freestanding bath is just the thing for you. The unique design of the bath smartly addresses the common problem of fitting a bathtub in your bathroom and also where to keep it. The D-shaped freestanding bath indeed looks like the letter 'D' with one side flat and straight while the opposite side is curved and smooth. For a smaller bathroom the bath sits cozily against the bathroom wall and due to its flat, straight side there is no wastage of excesses room. For a large enough bathroom you can place the bath anywhere as the contrasting sides of this uniquely designed bathtub is sure to lend your bathroom a quirky dimension that it had been missing for so long.
Styles
D-shaped freestanding baths come in a vast range of styles. You can opt for single slipper or double slipper. Single slipper tubs offer the best lounging experience at the comfort of your own home; while the double slipper tubs let you share your bath with someone special. Either way the ample room of the D-shaped tubs is going to provide you the perfect bathing experience. Apart from slipper tubs you can also choose the pedestal bath where the bath is placed on a heightened pedestal inside your bathroom. The pedestal bath gives a special feel and look, to your bath and is sure to be the talking point among your relatives and friends at your next house party. If you are on the older side or more traditionally inclined then elevate your freestanding bathtub with the help of feet. The imperial ball feet looks classic and remind one of the baths in Victorian ages. On the other hand, the lion's claw feet is a timeless beauty and lends your bathroom an old world charm. If you can afford and are willing to splurge then fit jets into your bath and unwind with a jetted bath after a long tiresome day. Who said you have to visit a spa every time you want a Jacuzzi bath? With the jetted bath you can now have one in your own home.
Materials
Another great thing about the D-shaped freestanding bath is they come in different sorts of material. Cast iron baths were very popular earlier but in recent times their popularity has waned largely due to their excessive weight. Cast iron bathtubs were primarily popular because they retained heat well and required little maintenance. So if you happen to have strong floors then you can go for cast iron tubs. White porcelain tubs also look amazing if you have marble tiles on your bathroom floor. They look stunning irrespective of their placement in your bathroom. Wherever it may be placed it is sure to draw attention. Acrylic D-shaped freestanding bath have become very popular in modern times. Acrylic tub retains a good amount of heat like its predecessor, the cast iron tub.
It is also easy to clean acrylic tubs and with proper maintenance they can last a good long time. The best part about acrylic bathtubs is they offer a plethora of color schemes for you to choose from. You can even order your tub in a particular color of your choice so as to match with the décor of your bathroom. So, owing to their versatility, very few bathtubs can hold a candle to the imaginative D-shaped freestanding baths.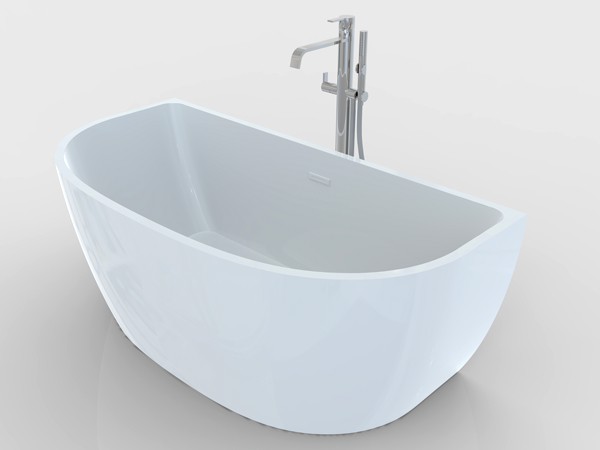 The Perks of Owning a D-shaped Freestanding Bath