Steel Bathtub
The enameled steel is a traditional material for producing bathtub, steel bathtub is produced by 2mm to 4mm thickness professional sanitary steel plates, which is stamped out by machines and then finished by enameled the surface.Steel bathtubs are extremely common because they are easy to manufacture, a large quantity of steel bathtubs can be produced efficiently and cheaply.Steel bathtubs look like iron bathtubs, but they are significantly lighter than cast iron bathtubs and heavier than acrylic bathtubs.Of course, steel bathtub can be use for long time, it is an economical choice for bathroom remodeling.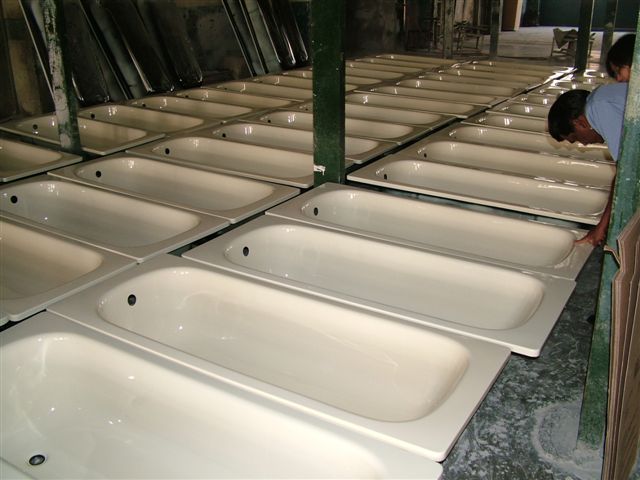 Steel Bathtubs before packing.
Advantages:
Steel bathtubs are relatively inexpensive.
Steel bathtubs are durable.
Steel bathtub's color is not easy to fade and its gloss can last for long.
Steel bathtubs are abrasion resistant, heat resistand pressure resistant.
Steel bathtubs are light weight and easy to install, it takes less muscle power to get the bathtub installed or replaced.
Disadvantages:
Steel bathtubs'color and shape choices are limited.
Steel bathtubs are noisy because they are made of metal.
Steel bathtubs have a tendency to chip, dent and slip.
steel bathtub is poor on warm keeping and impact tolerance.
Steel bathtubs are very cold while compared to bathtubs made from other materials, such as acrylic bathtub.
Maintenance tips:Steel bathtub is easy to clean, as usual, we'd better clean the steel bathtub by neutral detergent, soap and water, be sure to avoid use cleaning agents for ceramic tiles and enamel surface.Of course, we should clean the steel bathtub once a week;ensure to keep its dry after bathing.Don't leave steel objects onto the bathtub which can rod and rust the bathtub.If there is dirt which is not easy to remove by soap and water, try soda powder which can remove the dirt very easily.