Fiberglass Bathtub
Fiberglass, which is also known as gelcoat or FRP, is an inexpensive material to produce bathtub.The raw materials of fiberglass bathtub includes surface coat, polyester resin, fiberglass reinforcement and fillers.The quality of a fiberglass bathtub depends on the amount of these raw materials which are contained in the finished bathtub.
Surface
There are two kinds of surface to apply on the fiberglass bathtub, both of them have their own advantages.They are gelcoat and acrylic respectively.
Gelcoat is a mixture of polyester resin, color pigments and fillers.They are sprayed onto a mold to a desired thickness.In the industry of fiberglass bathtub, the surface thickness can range a lot.Of course, the thicker, the more durable.The advantage of the gelcoat is the same as acrylic bathtub:warm to touch, easy to clean and maintenance, anti slip, easy to repair etc.
Acrylic is another surface material on fiberglass bathtub.The acrylic sheet is firstly heated, then vacuum formed around a mold.The later step is the same as gelcoat surface firberglass bathtub, apply the fiberglass and reinforcement onto the mold.Acrylic is very smooth with hard and non-porous surface.The advantage of acrylic surfaced fiberglass bathtub is its high gloss surface and easy to clean.
Reinforcement
The reinforcement of the bottom is another factor which can affect the fiberglass bathtub quality.The ingredients comprise polyester resin, fillers, fiberglass and structural reinforcement as wood or foam.The formula of combining these raw materials is the crucial effect on both quality and cost.
The fillers contains calcium carbonate, aluminium tri-hydrate etc.Fiberglass bathtub with a certain amount of filler is required for fire retardation, but too much filler makes the final fiberglass bathtub less durable, easily brittle and tendency to crack during transporting and usage.As a serious manufacturer, we only use the minimum amount of fillers to retain the bathtub's flexibility which is less prone to crack.
Reinforcement in the bottom is core-mate laminated between three layers of resin impregnated fiberglass. The core mat makes less air gaps between laminations, wood is a kind of good reinforcement to make the bathtub solid enough and reduce the hollow sound of the bathtub, don't choose the bathtub with less quality reinforcement such as corrugated cardboard which is a cheaper materials but less solid and make the fiberglass bathtub too much light.
The benefits of fiberglass bathtub
Fiberglass bathtub is lightweight, low cost, easy to clean, maintenance, repair and can be incorporated into a shower stall.If you want a bathroom for both shower and bath, the fiberglass tubs with shower kit can be your great option.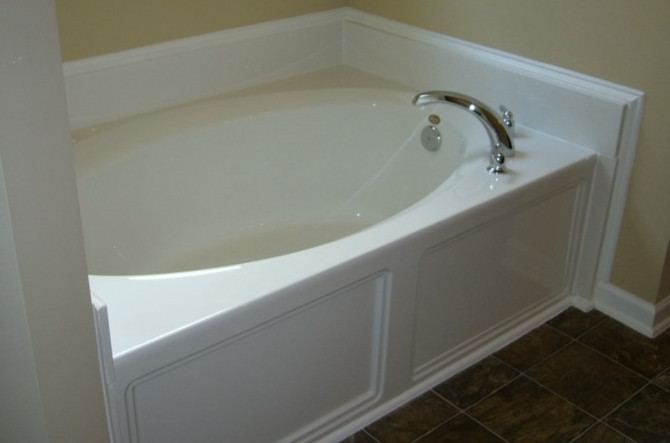 Fiberglass Bathtub-Fiberglass Tub