Acrylic Bathtub Pros and Cons
Acrylic bathtub could be a beautiful bath fixture to any bathroom, and since they are available in a wide variety of colors, shapes and styles, there is usually a perfect acrylic bathtub for any taste. Acrylic bathtub is so popular in the market because it has many advantages as durability, abundant options, easily installation, affordbility and non-porous surface of acrylic bathtubs.
Acrylic Bathtub Pros:
Durability

High quality acrylic bathtubs from GreenGoods are backed with sturdy materials.Layers of resins, also called gel-coat, help to create the strong bottom for a bathtub. Fiberglass and wood are then added to bolster the support of an acrylic bathtub installation, making it extremely durable.

Abundant Options

Homeowners upgrade the bathrooms more often than before, transforming a small bathrooms into luxurious spa havens currently be a trend, therefore the demand for attractive bathtubs in pretty colors and styles continues to grow. Acrylic bathtubs offer a wide variety of color and style options. The high gloss of acrylic surface stands the test of time better than any other bathtub materials. As we know, acrylic is a solid material, it will not fade as time goes by.

Easily Installation

Acrylic bathtub is easily installed because of its light weight.For example, a drop in acrylic bathtub is usually about 25 kg, while a cast iron counterpart weighs about 120 kg. So an acrylic bathtub is much easier to carry and move, especially installing a new bathtub on the upper floor of a house.Of course, it is also important to think about getting the old bathtub out while remodeling the bathroom. An old chipped cast iron bathtub is difficult to get out and dispose of, while an old acrylic bathtub can be cut up and easy to throw away.

Affordability

Acrylic bathtub is usually much more cheaper than other tubs.Sometimes, it is only as half price as a cast iron bathtub. If you are refitting the bathroom on a budget, acrylic bathtub may be your only choice.

Non-porous Surface

Because of the non-porous quality, acrylic bathtub are mildew, mold and bacteria resistant. The non-porous acrylic bathtub is also warm to the touch, keeping the water warm for longer.
Acrylic Bathtub Cons:
The drawbacks of acrylic bathtubs are usually the result of improper cleaning and usage.
Scratch:

Acrylic bathtub scratches usually happens from cleaning with abrasive compounds and scrubbers.

Remedy:Scratching can be reduced by cleaning acrylic bathtubs only with soapy water or with cleaners that have no abrasives, solvents, or acetone to restore the shiny smoothness.

Stain:

Acrylic bathtub is susceptible to staining, especially from the dyes used on hair and clothing, which is perhaps the greatest drawback of acrylic bathtub.

Remedy:The stains can be removed with a little work by the professionals to make acrylic surface restore to its original color.
In conclusion, keep the acrylic bathtub away from abrasive cleaners and hair dye, the acrylic bathtub could give the owner a lifetime of satisfaction.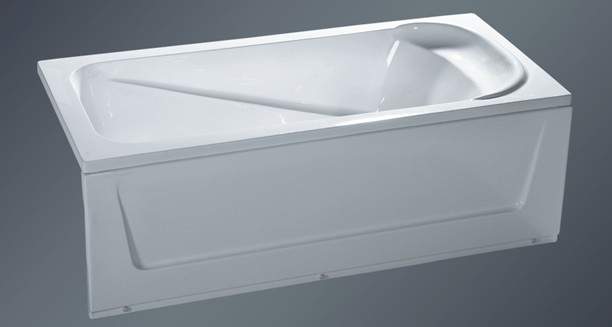 Acrylic Bathtub Pros and Cons